Snapshot
Sri Lanka's hill country is a land of tea-laden hillsides, gurgling waterfalls, stirring mountains and clear hill-country air. Here, in temperatures akin to a beautiful English summer's day, is wonderful walking country, a chance to experience Sri Lankan scenery at its finest and when the day is over to be sure, satisfied and weary, of a typically hospitable Sri Lankan welcome. Walk Sri Lanka is our most serious walking tour (the strollers among you should also check out our Nature Trek) and offers a chance to sample some of Sri Lanka's most uplifting scenery on foot. Experienced guides are provided whenever necessary so that you can concentrate upon gazing at the scenery without worrying about the route. At the end of the day's walk, you are transported by car or van to recover in carefully-selected guesthouse and hotels offering the chance to relax in comfort. Approximate trekking times indicated below will vary depending on individual fitness levels. We can tailor this walking journey according to your preferences, so feel free to ask for modifications.

Note: Weather considerations can apply when exploring the hill country. Trekking in the Knuckles Mountain Range is best avoided during the rainy season from November to mid-January. The months of July and August can also be pretty windy in the Knuckles. The Adam's Peak climbing season begins in January and ends in April. We can suggest all the adjustments necessary.
Our Opinion
Many years of research have gone into a constantly-researched tour that is spreading the word that Sri Lanka is great walking country.
Don't Miss
Trek through Eucalyptus forests and tea estates in the southern highlands
Climb the sacred Adam's Peak and take in the awe-inspiring sunrise from the summit
Take a train journey to the scenic hill country scattered with tea covered hills and gushing waterfalls
Hike across hills and rural villages in the Knuckles Mountain Range
Experience the sights and sounds of Colombo with a city walk
PACKAGE INCLUDES
Accommodation in a shared double / twin room
Chauffeur-guide and vehicle for the duration of the tour (including leisure days)
Both airport transfers
Expert advice and support prior to and during the tour

TERMS & CONDITIONS
Price shown is a starting price and is subject to change, depending on travel dates / the number of people travelling etc.
Price shown is based on two people sharing a double / twin room
See our Booking Conditions for more details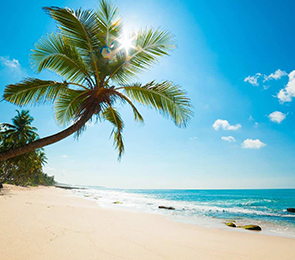 Day 1
Negombo, North-West Coast
Upon arriving in Sri Lanka, transfer to a convenient hotel close to the international airport. Relax and unwind after your flight, preparing yourself for the adventure ahead.
Accommodation: Villa Hundira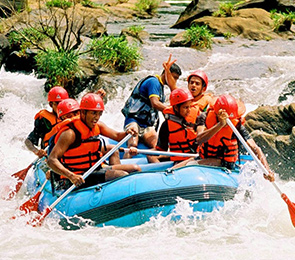 Day 2
Kitulgala, Sinharaja & Kitulgala
Transfer directly from the airport to the western foothills of the central highlands for your overnight stay in Kitulgala. Kitulgala is an area with tropical rainforests, winding rivers and an undulating terrain and owes its popularity to the Kelani River which offers exciting Grade 3 rapids for rafting. The calm sections of the river meander through jungle-clad mountains, low country tea and rubber plantations.
Accommodation: Borderlands
Recommended Activities: White-Water Rafting and Canoeing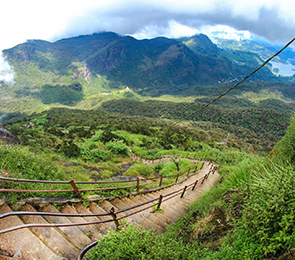 Day 3 & 4
Dalhousie, Hill Country
Begin your walking journey from Kitulgala to Laxapana. Cross the Kelani River by catamaran and trek through rainforests, tea estates, and gravel roads. Stop at Laxapana waterfall for a snack lunch. Continue by vehicle to Dalhousie, where you'll stay at the scenic Yellow House overlooking the Kelani River and Adam's Peak Mountain. The surrounding forest reserve is a nature lover's paradise, teeming with birds and butterflies. Rest the next day amidst beautiful mountain scenery before embarking on a night climb of Adam's Peak. Thousands of pilgrims visit this sacred site from December to April. Reach the mountain top at sunrise for breathtaking views. The hike takes around 2.5-3 hours for a reasonably fit person. Optionally, explore a tea plantation, tea factory, and Dalhousie's rural village before the climb.
Accommodation: Slightly Chilled Yellow House
Recommended Activities: Adam's Peak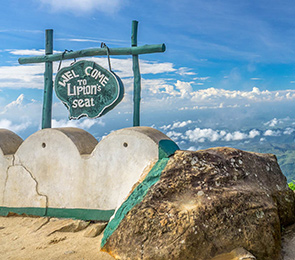 Day 5
Koslanda, Hill Country
In the morning, travel by vehicle to your next trail. You are heading for Lipton Seat located within the Dambetenna Tea Estate. The Trail climbs to 1,900m and was a favorite lookout point of Sir Thomas Lipton, the great tea pioneer, when surveying his vast tea plantation. Climb down through the Nayabeddha estate via another spectacular viewpoint. Visit the Dambetenna tea plantation and tea factory which is the longest tea factory in Sri Lanka. Here you will gain insight into the manufacturing process as well as an opportunity to taste and purchase the different grades of hill country tea. (Walking distance: 16km).
Accommodation: Living Heritage
Recommended Activities: Lipton's Seat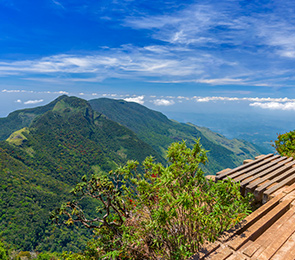 Day 6, 7 & 8
Nuwara Eliya, Hill Country
After breakfast, hike to Bambarakanda Falls, Sri Lanka's highest waterfall. Along the way, have lunch and a swim at a scenic forest waterfall. Later, transfer to Nuwara Eliya for a three-night stay. This hill-country location was a retreat for British civil servants and planters. In Nuwara Eliya, start from Idalgashinna and explore the Kotugodella Fort, an ancient fortress. Then, enjoy a relaxed 3-hour hike in Horton Plains National Park, visiting Bakers Falls and World's End. The park offers solitude and stunning views. On your final day, take a gentle walk to the top of Single Tree Hill, passing through tea plantations. Optionally, continue along the ridge above Nuwara Eliya, through tea plantations and Eucalyptus forests.
Accommodation: Jetwing St. Andrew's
Recommended Activities: Horton Plains National Park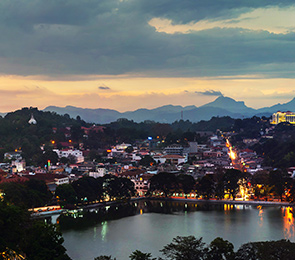 Day 9
Kandy
Hop on board the train from Nuwara Eliya and enjoy one of the most glorious train journeys in the world, winding through spectacular mountain scenery until you reach Kandy - Sri Lanka's hill capital. Spend a night in the town. (Rest day).
Accommodation: Villa Rosa
Recommended Activities: Temple of the Tooth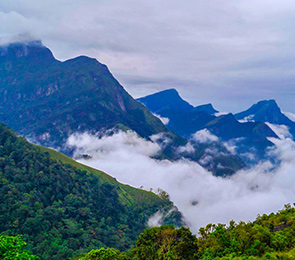 Day 10, 11 & 12
Bobebilla, Kandy
Travel by vehicle to the Knuckles range and stay at Rangala House for three nights. Enjoy walks right from the hotel, exploring estate paths, tea fields, woodlands, and cardamom groves. The mountain views are breathtaking, and the area is rich in wildlife. The Knuckles Conservation area offers jungle treks, mountain climbing, and camping. Our knowledgeable guides will navigate the trails in this 155 sq km range of five peaks. A professional guide and advance tickets are required from the Forestry Department. Trek through forests, rivers, waterfalls, tea plantations, and paddy fields, and visit rural villages along the way.
Accommodation: Rangala House
Recommended Activities: Knuckles Mountain Range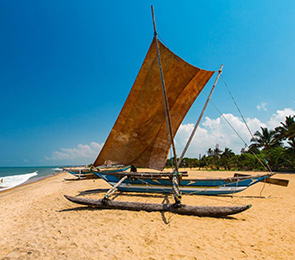 Day 13
Negombo, North-West Coast
Today you head towards the north-west coastal town of Negombo for your final night's stay at The Wallawwa, which is convenient for your flight home.
Accommodation: The Wallawwa
Following are recommended optional activities
White-Water Rafting and Canoeing
Kitulgala, Sinharaja & Kitulgala
Enjoy an exciting rafting adventure in a jungle paradise. The Kelani River is famous for its white-water rafting and boasts rapids suitable for beginners and those with more experience.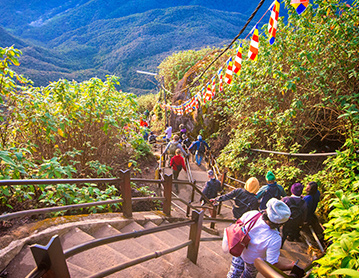 Adam's Peak
Hatton, Hill Country
Adam's Peak is sacred to all four religious groups in Sri Lanka. Attempt the enthralling and challenging climb at night to reach the top in time to witness one of the most stunning sunrises in Asia.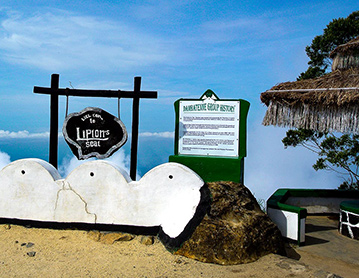 Lipton's Seat
Haputale, Hill Country
The favourite viewing point of Sir Thomas Lipton, Lipton's Seat offers one of the most spectacular views of Sri Lanka's Hill Country. Drive to the top, or walk up through the surrounding plantations.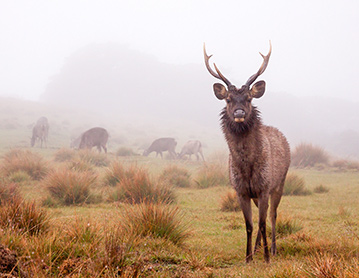 Horton Plains National Park
Nuwara Eliya, Hill Country
An undulating 2000m-high plateau covered in grassy plains interspersed with small patches of forest which is home to a rich array of wildlife. Trek to 'World's End', the park's most dramatic feature.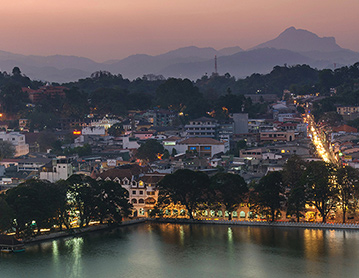 Temple of the Tooth
Kandy
Tradition relates that a sacred tooth relic of Lord Buddha was brought to Sri Lanka in 4th century A.D. and has been enshrined in the Dalanda Maligawa, or Temple of the Tooth, since the late 1500s.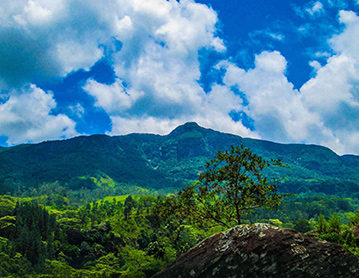 Knuckles Mountain Range
Knuckles, Kandy
Trek through the Knuckles Mountain Range, named thus because of its resemblance to a clenched fist, five mountain peaks spanning 155sqkm which host a wide range of rare endemic flora and fauna.