Snapshot
Red Dot's Sri Lanka Wellness Tour was designed to nurture your mind, body and soul. This tranquil island tour takes you from the Cultural Triangle, Sri Lanka's spiritual heart, to an escapist beach setting on Sri Lanka's South Coast, with languid stays at some of the island's most treasured eco-retreats. You will have the opportunity to discover Sri Lanka's ancient heritage, walk through its picturesque central hills and relax on golden tropical beaches, with plenty of time reserved for traditional Ayurvedic treatments, yoga classes and just enjoying a total immersion in nature.
Our Opinion
Choose this tour if you are seeking off-the-beaten-track escapes where you can nourish your mind and body with massages, yoga and plenty of time in the great outdoors.
Don't Miss
Trek through the little-visited Knuckles Mountain Range
Discover the ancient healing practice of Ayurveda
Indulge in spa treatments and yoga classes
Explore Sri Lanka's ancient spiritual heritage
Sail or kayak across scenic Koggala Lake on the Galle Coast
Stroll along near-deserted tropical beaches
Escape the crowds and the stress of day-to-day life
PACKAGE INCLUDES
Accommodation in a shared double / twin room
Chauffeur-guide and vehicle for the duration of the tour (including leisure days)
Both airport transfers
Expert advice and support prior to and during the tour

TERMS & CONDITIONS
Price shown is a starting price and is subject to change, depending on travel dates / the number of people travelling etc.
Price shown is based on two people sharing a double / twin room
See our Booking Conditions for more det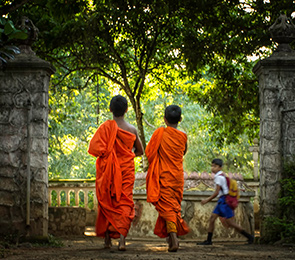 Day 1
Habarana, Cultural Triangle
Upon arrival, transfer straight to Habarana in the Cultural Triangle and spend the rest of the day relaxing at your accommodation for the next three nights, a rustic eco-retreat without internet in idyllic surroundings that attract a variety of wildlife.
Accommodation: Galkadawala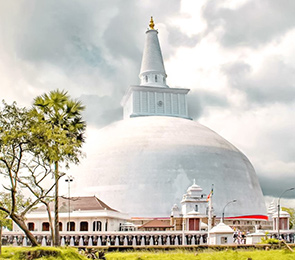 Day 2 & 3
Habarana, Cultural Triangle
During your time in Sri Lanka's Cultural Triangle, tap into the country's spiritual atmosphere by exploring the island's ancient Buddhist heritage: go on a cycling tour of Anuradhapura, Sri Lanka's first civilisation; climb to the top of Mihintale, the birthplace of Buddhism in Sri Lanka, or trek through Ritigala Forest Reserve to find the old monastery hidden within the trees. In between excursions, indulge in some of the activities on offer at Galkadawala which range from river kayaking and nature trails to traditional Ayurvedic treatments.
Accommodation: Galkadawala
Recommended Activities: Mihintale , Ritigala , Anuradhapura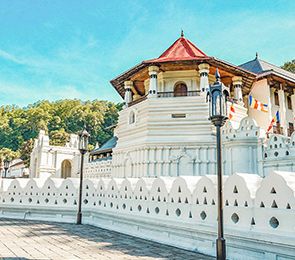 Day 4, 5 & 6
Kandy
Head south into Sri Lanka's central hills. The Knuckles Mountain Range lies off the tourist trail despite offering some of the most spectacular walking opportunities in Sri Lanka, so you will be undisturbed as you trek up the mountain to dramatic viewpoints, passing through tea estates, small villages and patches of cloud forest on your way. Your accommodation is devoted to giving guests a spiritual experience, and in addition to its beautiful setting offers yoga classes, guided meditation, Ayurveda and Reiki treatments, as well as the opportunity for river bathing and birdwatching.
Accommodation: Samadhi Centre
Recommended Activities: Knuckles Mountain Range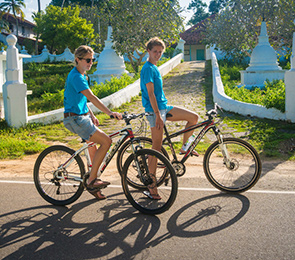 Day 7, 8 & 9
Koggala, Galle Coast
A half-day's drive brings you to Koggala Lake, just inland of the popular Galle Coast. Tri Lanka is an idyllic retreat which offers wellness with a touch of luxury in an utterly tranquil setting. Go kayaking or sailing across the lake; take part in yoga lessons led by an expert teacher in the fairy-tale tree-top yoga shala; pamper yourself with a range of treatments in their spa, and swim in the infinity pool which enjoys glorious lakeside vistas. If you want to explore the surrounding area but maintain your sense of peace, try our off-the-beaten-track Galle activities including guided cycling trails and cooking classes.
Accommodation: Tri Koggala
Recommended Activities: Traditional Sri Lankan Cooking Class , Galle Guided Bicycle Trails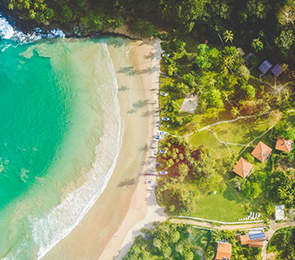 Day 10, 11, 12 & 13
Talalla, South Coast
Your Sri Lanka wellness tour ends with four days at Talalla Retreat, an enchanting beach property in an escapist part of Sri Lanka's south coast. Relax and unwind as you soak in the beauty and serenity of your surroundings. Go for strolls along the sand; swim in the healing ocean; take part in yoga classes, led by expert practitioners, and indulge in more Ayurvedic wellness treatments.
Accommodation: Talalla Retreat
Following are recommended optional activities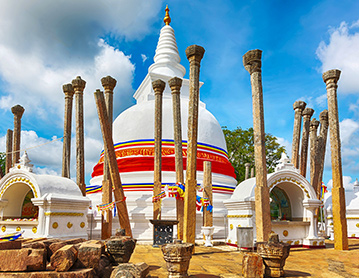 Anuradhapura
Anuradhapura, Cultural Triangle
Discover the majestic remains of Sri Lanka's first capital, originally built in the 4th century BC, the ruling place for over 100 Sri Lankan kings. You can explore these extensive ruins by bike.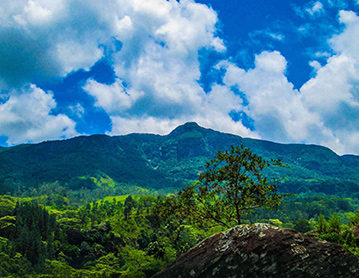 Knuckles Mountain Range
Knuckles, Kandy
Trek through the Knuckles Mountain Range, named thus because of its resemblance to a clenched fist, five mountain peaks spanning 155sqkm which host a wide range of rare endemic flora and fauna.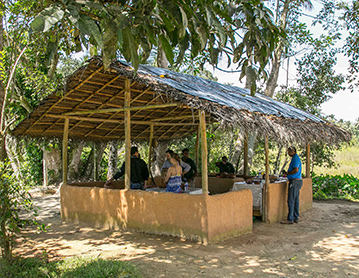 Traditional Sri Lankan Cooking Class
Galle, Galle Coast
After visiting the vibrant Galle Market, journey along the river towards a secluded rural village and learn how to make a variety of traditional Sri Lankan dishes in the cool of a wattle-and-daub hut.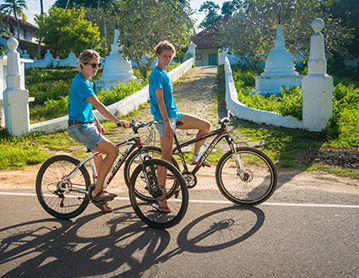 Galle Guided Bicycle Trails
Galle, Galle Coast
Cycle through Galle's beautiful countryside, passing paddy fields dotted with iconic white egrets and water buffalo, quiet villages, tea and rice fields. Choose from a range of routes.