Snapshot
Experience the beauty of Sri Lanka tea hills and southern coastline on this leisurely all-inclusive Sri Lanka holiday which also includes two nights on the border of Yala National Park. Your accommodation is some of the finest in the island and each luxurious hotel offers an intimate stay with gourmet dining and unique travel experiences.
Our Opinion
Take the time to totally unwind on this indulgent holiday, relaxed in the knowledge that all of your meals and activities are already covered.
Don't Miss
Glorious views and activities at Castlereagh Lake
Gentle walks and bike rides through tea estates
Spot exotic wildlife in Yala National Park
Relax on beautiful tropical beaches
Indulge in delicious gourmet meals
PACKAGE INCLUDES
Accommodation in a shared double/twin room on an all-inclusive meal basis
Camellia Hills - Includes breakfast, lunch, afternoon tea, dinner, complimentary soft drinks, beer, house wine, house gin/vodka/whiskey/arrack with mixers, Tea factory tour and tea estate walking trails and cycling at Camellia Hills
Chena Huts – includes all meals, morning and afternoon Yala National park safaris during the stay, selected wine, beer and spirits, fruit juices, other soft drinks , teas and coffees.
Anantara Peace Haven Tangalle - A spa treatment once during your stay at Anantara Peace Haven Tangalle, high tea, wine upon arrival, selected spirits, beers and soft-drinks served from 11.00hrs – 23.00hrs, Mini Bar refilled once per stay, breakfast, A-la-carte lunch and dinner in any restaurant
Chauffeur-guide and vehicle for the duration of the tour (including leisure days)
Both airport transfers
Expert advice and support prior to and during the tour
TERMS & CONDITIONS
Price shown is a starting price and is subject to change, depending on travel dates / number of travellers etc.
Price shown is based on two people sharing a double/twin room excluding domestic flights
See our Booking Conditions for more details
All Inclusive is not permitted during the high season. (24 Dec – 5 Jan)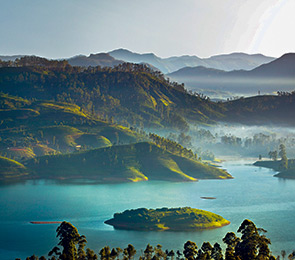 Day 1, 2 & 3
Hatton, Hill Country
Transfer from the airport to Hatton, either by car or save time with a seaplane ride. Experience the sensational surroundings of Sri Lanka's central hills which have been known as the Tea Country since the 19th century when British colonialists dedicated this area to the production of tea. Stroll the estates or go on a bike ride through the bushes. You may also visit the Warleigh church which is on the opposite shore of Castlereagh lake or Relax by the pool and soak in the sunshine and awe-inspiring views.
Accommodation: Camellia Hills
Recommended Activities: Horton Plains National Park , Knuckles Mountain Range , Adam's Peak , Lipton's Seat , Nine Arch Bridge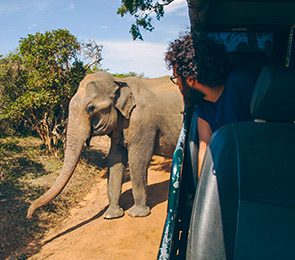 Day 4 & 5
Yala National Park, Yala
Wind out of the island's hills down to the south-east coast. There is also the option to skip the road journey and take a seaplane. Discover Sri Lanka's most iconic exotic wildlife on twice-daily private game drives into Yala National Park. This popular nature reserve is just minutes from your hotel and boasts an array of incredible animals including the elusive leopard, majestic elephants, vibrant birds and lazy crocodiles. In between game drives, relax at the pool bar with a cool drink in hand. Dine in an oil-lit restaurant with sea views.
Accommodation: Uga Chena Huts
Recommended Activities: Yala National Park , Bundala National Park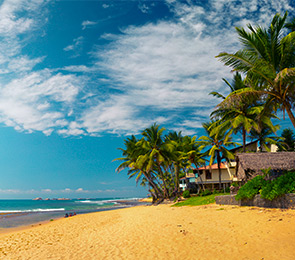 Day 6, 7 & 8
Tangalle, South Coast
It's time for a few days of well-deserved rest and relaxation on the beautiful beaches of Sri Lanka's south coast. Tangalle is just a couple of hours from Yala by car. Go for romantic sunset strolls; eat delicious meals at the variety of hotel restaurants; unwind by the pool or on the sand, and indulge in a range of soothing spa treatments. Bliss!
Accommodation: Anantara Peace Haven Tangalle Resort
Recommended Activities: Take a Sri Lanka surfing lesson , Rekawa Turtle Watch , Whale Watching in Mirissa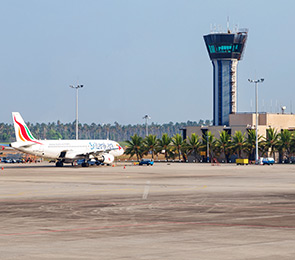 Day 9
Airport
You will be collected from Tangalle and transferred to the airport in plenty of time to catch your plane home.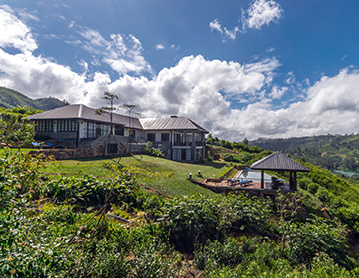 Camellia Hills
Hatton, Hill Country
Camellia Hills is a modern interpretation of a tea bungalow. Offering accommodation in five ensuite rooms overlooking the majestic Castlereagh reservoir and surrounding tea plantations, the bungalow is great for relaxation and operate on all-inclusive basis.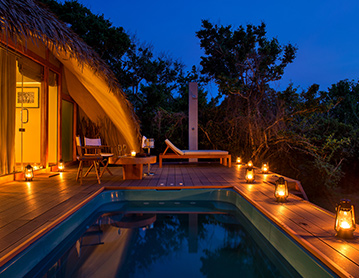 Uga Chena Huts
Yala National Park, Yala
Yala's first boutique hotel, Uga Chena Huts is comprised of fourteen private cabins sprawled across seven acres of scrubland, edged by the ocean and just five minutes from the entrance to Yala National Park. This luxurious accommodation offers exquisite food, excellent service and a peaceful atmosphere. There is a pool, spa, and each cabins is complete with a private plunge pool.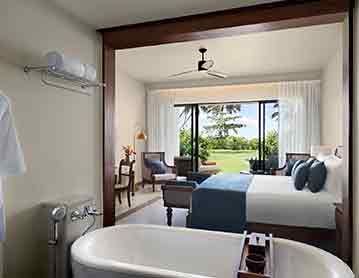 Anantara Peace Haven Tangalle Resort
Tangalle, South Coast
Situated on a rocky outcrop amidst a coconut plantation along a secluded section of the island's southernmost coastline, Anantara Tangalle Peace Haven is a representation of all the versatile environments Sri Lanka has to offer.
Following are recommended optional activities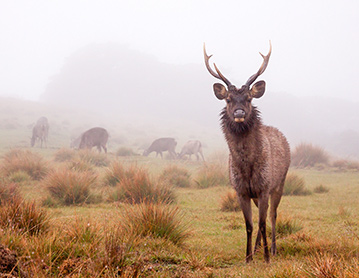 Horton Plains National Park
Nuwara Eliya, Hill Country
An undulating 2000m-high plateau covered in grassy plains interspersed with small patches of forest which is home to a rich array of wildlife. Trek to 'World's End', the park's most dramatic feature.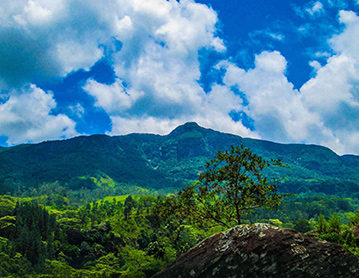 Knuckles Mountain Range
Knuckles, Kandy
Trek through the Knuckles Mountain Range, named thus because of its resemblance to a clenched fist, five mountain peaks spanning 155sqkm which host a wide range of rare endemic flora and fauna.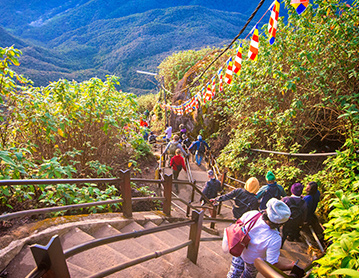 Adam's Peak
Hatton, Hill Country
Adam's Peak is sacred to all four religious groups in Sri Lanka. Attempt the enthralling and challenging climb at night to reach the top in time to witness one of the most stunning sunrises in Asia.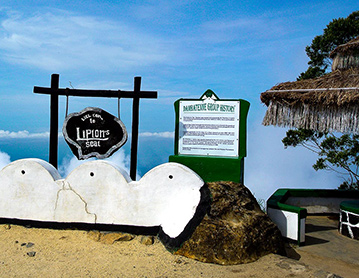 Lipton's Seat
Haputale, Hill Country
The favourite viewing point of Sir Thomas Lipton, Lipton's Seat offers one of the most spectacular views of Sri Lanka's Hill Country. Drive to the top, or walk up through the surrounding plantations.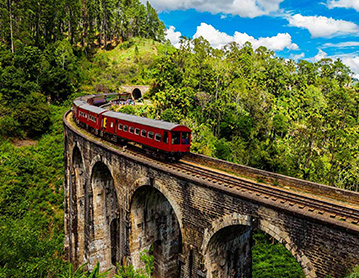 Nine Arch Bridge
Ella, Hill Country
Located in Ella, the Nine Arch Bridge is one of the most iconic bridges in Sri Lanka and is a stunning example of the incredible engineering prowess behind the island's railway system.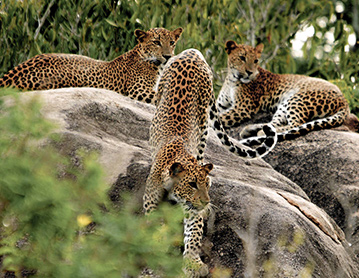 Yala National Park
Yala National Park, Yala
Yala National Park, situated in the south-east corner of the island, is home to the greatest variety of Sri Lanka's wildlife including the island's big game – elephants, leopards and sloth bears.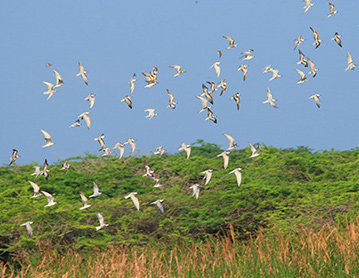 Bundala National Park
Bundala, Tissa & Kataragama
Bundala National Park, which neighbours Yala, is one of the best places for birdwatching in Sri Lanka, and is also home to sloth bears, elephants and deer.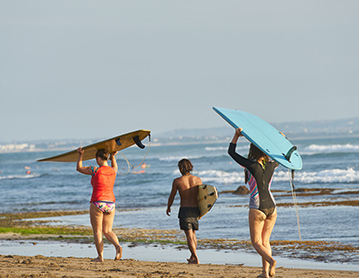 Take a Sri Lanka surfing lesson
Weligama, South Coast
Learn to surf the waves at Weligama Bay on Sri Lanka's blissful south coast with the extra assurance of your own instructor to guide you every step of the way. For beginners and those seeking to improve their style.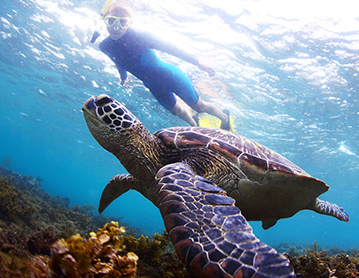 Rekawa Turtle Watch
Rekawa, South Coast
Five of the seven species of marine turtle come ashore at Rekawa to lay their eggs. Join the night watch to observe these fascinating creatures up close.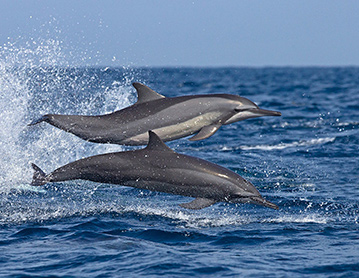 Whale Watching in Mirissa
Mirissa, South Coast
This modern catamaran complete with professional crew sets out from Mirissa Harbour at 6:30am, beating the other boats in order to have the best dolphin and whale sightings.