Sri Lanka is a fantastic holiday destination for those who like to stay active, whether you want to indulge in some exhilarating water-sports or climb a mountain. The island's diverse landscape means that there is a wide range of adventure options available: trek through Sinharaja Rainforest; go white water rafting down the rapids at Kitulgala; explore Sri Lanka's ancient ruins by bike or on foot; climb Adam's Peak, Sri Lanka's sacred mountain, or take the train into the island's stunning hill country.
There are also many different sports on offer in Sri Lanka, most popular being the thrilling water-sports available around the country's coastline: go surfing in Arugam Bay, one of the top ten surf spots in the world; try kite-surfing and windsurfing on Kalpitiya Lagoon; go scuba diving in the south coast, or snorkel at Pigeon Island near Trincomalee. There are also opportunities for walking – mostly in the cool climate of Sri Lanka's spectacular hills – and cycling, such as exploring the beautiful inland areas around Galle by bike.
Red Dot Tours was originally set up to organise Sri Lanka cricket tours before it expanded into holidays as well. Sri Lanka as a nation is obsessed with cricket, and there are many opportunities for watching and playing this sport whilst you are in the country. See our Red Dot Sports website for more details about organising a sports tour of Sri Lanka, or send an email to [email protected].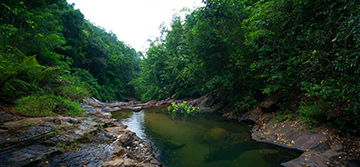 Kitulgala-Kelani Forest Reserve
Kitulgala, Sinharaja & Kitulgala
The Kelani Valley Forest Reserve in Kitulgala offers breath-taking scenery. Sail down the river, or journey through the jungle-clad hills and tea and rubber plantations on foot or by mountain bike.
Duration: N/A
Best time: Year-round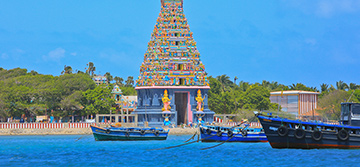 Visit to Nainativu Island by Boat
Jaffna
Take a 30-minute boat ride to Nainativu, one of the smallest inhabited islands in the Gulf of Mannar. The name of the island alludes to the folklore inhabitants, the Naga people, considered one of the first tribes in Sri Lanka.
Duration: 2 hours
Best time: Year-round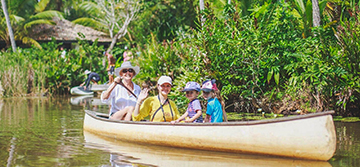 River Cruising
Island-wide
Slow down and travel silently by tiny boat up a Sri Lanka river to get a real sense of the beauty of this tropical land.
Duration: 2 hours
Best time: Year-round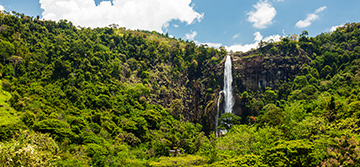 Sri Lanka Waterfalls
Hill Country
More than a hundred waterfalls are scattered across Sri Lanka's verdant central hills, and whilst some are fairly small or inaccessible, many are worth hiking to. We've highlighted our top five.
Duration: 2 hours
Best time: Year-round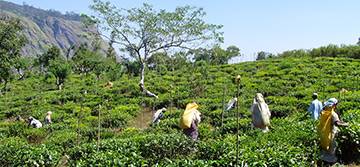 Treks and Tea at Amba Estate
Ella, Hill Country
Experience tea, glorious treks and total tranquillity during this four-night stay at Amba Estate, an organic farm on the outskirts of Ella in Sri Lanka's hills. One of our Extended Activities.
Duration: 4 nights / 5 days
Best time: December to March, August and September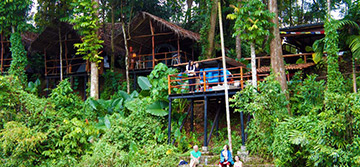 Canyoning in Kitulgala
Kitulgala, Sinharaja and Kitulgala
A three-night action-packed adventure of white-water rafting, canyoning and hiking in remote Kitulgala on the western fringes of Sri Lanka's hills. This activity is run by Borderlands, a reputable company committed to providing high-quality guiding and safety equipment.
Duration: 3 nights / 4 days
Best time: December to March, July to September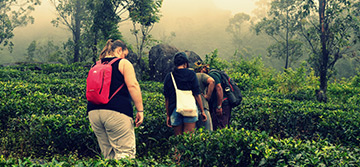 Intrepid Hike in Knuckles
Knuckles, Kandy
A two-night hiking adventure through the remote Knuckles Mountain Range with stays in a rural village and in the middle of the jungle.
Duration: 2 nights / 3 days
Best time: December to March, July and August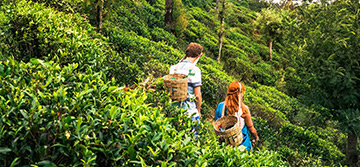 Kandy tea hills trek
Deltota, Kandy
Traverse some of Sri Lanka's most historic and scenic tea estates on this two-day trek around Deltota in the picturesque Kandyan foothills.
Duration: 2 nights / 3 days
Best time: December to March, July to September