Sri Lanka is a fantastic holiday destination for those who like to stay active, whether you want to indulge in some exhilarating water-sports or climb a mountain. The island's diverse landscape means that there is a wide range of adventure options available: trek through Sinharaja Rainforest; go white water rafting down the rapids at Kitulgala; explore Sri Lanka's ancient ruins by bike or on foot; climb Adam's Peak, Sri Lanka's sacred mountain, or take the train into the island's stunning hill country.
There are also many different sports on offer in Sri Lanka, most popular being the thrilling water-sports available around the country's coastline: go surfing in Arugam Bay, one of the top ten surf spots in the world; try kite-surfing and windsurfing on Kalpitiya Lagoon; go scuba diving in the south coast, or snorkel at Pigeon Island near Trincomalee. There are also opportunities for walking – mostly in the cool climate of Sri Lanka's spectacular hills – and cycling, such as exploring the beautiful inland areas around Galle by bike.
Red Dot Tours was originally set up to organise Sri Lanka cricket tours before it expanded into holidays as well. Sri Lanka as a nation is obsessed with cricket, and there are many opportunities for watching and playing this sport whilst you are in the country. See our Red Dot Sports website for more details about organising a sports tour of Sri Lanka, or send an email to [email protected].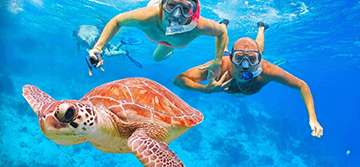 6 Best Water-Sport Activities in Sri Lanka
Island-wide
Discover the 6 best water-sport activities in Sri Lanka, from athletic surfing, kite-surfing and windsurfing to laidback snorkelling and sailing trips.
Duration: N/A
Best time: December to March, June to September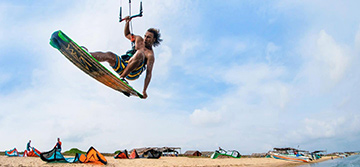 Kitesurfing in Sri Lanka
Kalpitiya, West Coast
The best place to go kitesurfing in Sri Lanka is along the north-west coast, in Negombo and Kalpitiya, both of which are laidback beach towns that are also home to a vast lagoon.
Duration: 3 hours
Best time: May to October, December to March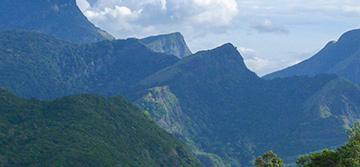 Knuckles Mountain Range
Knuckles, Kandy
Trek through the Knuckles Mountain Range, named thus because of its resemblance to a clenched fist, five mountain peaks spanning 155sqkm which host a wide range of rare endemic flora and fauna.
Duration: 2 to 7 hours
Best time: Year-round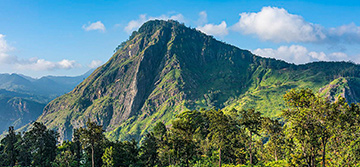 Little Adam's Peak
Ella, Hill Country
Although this climb is relatively easy, the views from the top of Little Adam's Peak are sensational. Begin the climb with a gentle stroll through a sloping tea field, passing endless neat rows of terraced tea plants.
Duration: 3 hours
Best time: Year-round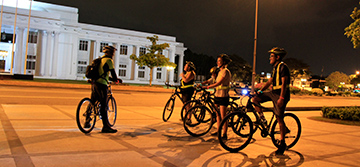 Night cycling tour of Colombo
Colombo
Go on a guided night cycling tour around Colombo, using quiet roads and appropriate safety equipment, and see how this lively city changes after dark.
Duration: 4 hours
Best time: Year-round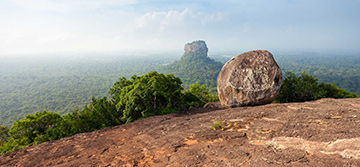 Pidurangala Rock
Sigiriya, Cultural Triangle
Whilst building Sigiriya Rock Fortress in the 5th century AD, King Kasyapa moved the monks who lived around Sigiriya to Pidurangala Rock, and an ancient cave temple still remains here.
Duration: 3 hours
Best time: Year-round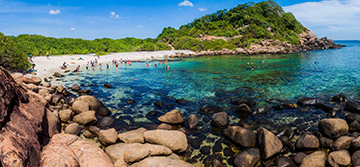 Pigeon Island
Nilaveli, East Coast
Go snorkelling at Pigeon Island, one of Sri Lanka's two marine national parks, and see intricate corals, small colourful fish and black-tip reef sharks, as well as endangered marine turtles.
Duration: 2 hours
Best time: May to October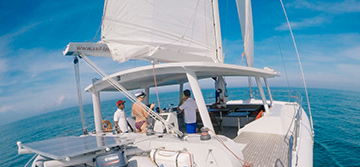 Sailing in Trincomalee or Pasikudah
Pasikudah, East Coast
Set out from the shores of Trinco or Pasikudah in a catamaran and explore the splendour of Sri Lanka's eastern coastline. Go to beautiful private coves and snorkel off colourful reefs.
Duration: 2 hours
Best time: June to September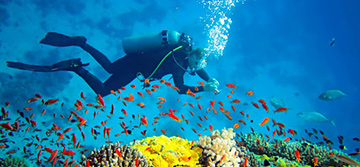 Scuba Diving in Sri Lanka
Island-wide
Sri Lanka's eastern coastal belt is a wonderful place for scuba diving. The reefs, colourful corals and an array of exotic marine life, have attracted many sea farers for centuries.
Duration: 2 hours
Best time: Year-round