Sri Lanka is a fantastic holiday destination for those who like to stay active, whether you want to indulge in some exhilarating water-sports or climb a mountain. The island's diverse landscape means that there is a wide range of adventure options available: trek through Sinharaja Rainforest; go white water rafting down the rapids at Kitulgala; explore Sri Lanka's ancient ruins by bike or on foot; climb Adam's Peak, Sri Lanka's sacred mountain, or take the train into the island's stunning hill country.
There are also many different sports on offer in Sri Lanka, most popular being the thrilling water-sports available around the country's coastline: go surfing in Arugam Bay, one of the top ten surf spots in the world; try kite-surfing and windsurfing on Kalpitiya Lagoon; go scuba diving in the south coast, or snorkel at Pigeon Island near Trincomalee. There are also opportunities for walking – mostly in the cool climate of Sri Lanka's spectacular hills – and cycling, such as exploring the beautiful inland areas around Galle by bike.
Red Dot Tours was originally set up to organise Sri Lanka cricket tours before it expanded into holidays as well. Sri Lanka as a nation is obsessed with cricket, and there are many opportunities for watching and playing this sport whilst you are in the country. See our Red Dot Sports website for more details about organising a sports tour of Sri Lanka, or send an email to [email protected].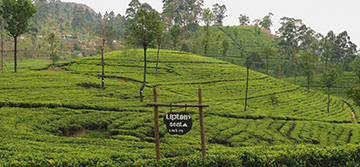 Lipton's Seat
Haputale, Hill Country
The favourite viewing point of Sir Thomas Lipton, Lipton's Seat offers one of the most spectacular views of Sri Lanka's Hill Country. Drive to the top, or walk up through the surrounding plantations.
Duration: 2 hours
Best time: Year-round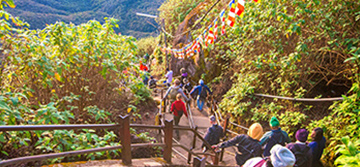 Adam's Peak
Hatton, Hill Country
Adam's Peak is sacred to all four religious groups in Sri Lanka. Attempt the enthralling and challenging climb at night to reach the top in time to witness one of the most stunning sunrises in Asia.
Duration: 7 hours
Best time: December to April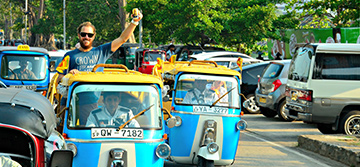 Colombo by Tuk Tuk
Colombo
See Colombo as the locals do – from the back seat of a tuk tuk, the three-wheelers which rove the island's capital. Visit the city's main attractions, lesser-known spots and enjoy the cool breeze.
Duration: 2 hours
Best time: Year-round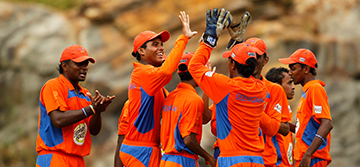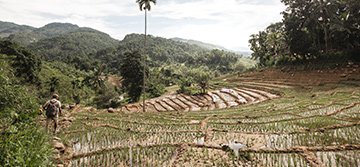 Explore Sri Lanka's Village Life
Knuckles, Kandy
Spend a morning walking through the picturesque rural countryside in the foothills surrounding Kandy. Great for birdwatching.
Duration: 3 hours
Best time: Year-round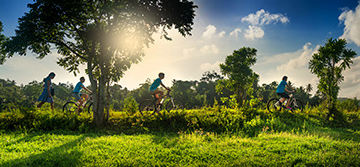 Galle Boats and Bikes
Gal Oya, East Coast
Explore the rural villages around Galle, first by boat as you sail down the Kapu Ela, then by a scenic 9km bike ride through the surrounding paddy fields. Finish with hoppers and tea in a mud hut.
Duration: 2 hours
Best time: Year-round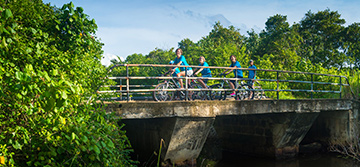 Galle Guided Bicycle Trails
Galle, Galle Coast
Cycle through Galle's beautiful countryside, passing paddy fields dotted with iconic white egrets and water buffalo, quiet villages, tea and rice fields. Choose from a range of routes.
Duration: 2 hours
Best time: Year-round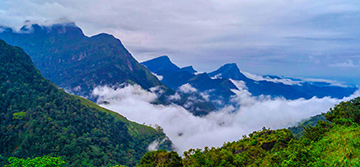 Hike in the Knuckles
Knuckles, Kandy
The Knuckles Mountain Range is perfect for hiking – a land of mystical peaks, chattering waterfalls and hidden hillside villages, with breathtaking visas and a remoteness that will appeal to experienced and novice hikers alike.
Duration: 4 hours
Best time: February to August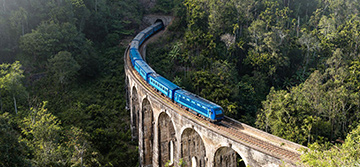 Kandy to the Hill Country by train
Kandy
Praised as one of the most beautiful rail journeys in the world, the train ride winds out of Kandy and up through the Hill Country, providing panoramic views of the spectacular tea-covered hills.
Duration: 1 hour
Best time: Year-round