Ayurveda, literally translated as `the Science of Life', is an ancient form of healing and well-being that dates back 5,000 years. This natural healing method seeks not only to cure disease, but also to rejuvenate the body by increasing immunity against disease. It can be effective in curbing stress and in promoting a positive and relaxed mental attitude.
Ayurveda spread to Sri Lanka from India around 6th century BC and would go on to become the main form of medical practice in the island. Sinhalese kings contributed significantly to the development of Ayurveda in Sri Lanka – King Dutugemunu built hospitals for the Buddhist monks and a maternity hospital as early as 173 BC, and King Buddhadasa (388 – 416AD) was a great Ayurveda physician and is credited with the compilation of 'Saratha Sangrahaya', which is read by Ayurvedic doctors to this day. Ruins of these ancient hospitals can still be seen in the ruined cities of the Cultural Triangle.
Ayurveda in Sri Lanka is today intermingled with Siddha (medicine from South India),Unani (Greko-Arabic system) and some aspects of acupuncture from China. Until the introduction of western medicine by the British in the 19th century, Ayurveda attended to the health of the people, and even today remains a part of Sri Lanka's national healthcare system.
Ayurveda is a natural healing method, a complete and holistic healing system which promotes general wellbeing. The basis of Ayurveda treatment is a process of purification and rejuvenation. According to this philosophy, the accumulation of toxic substances in your body, coupled with poor diet, digestion, sleep and excess stress leads to the imbalance of the system and can lead to poor health. Herbs and natural medicines are used to eliminate toxins and balance the body's energies, so restoring health and vitality.
You don't have to be sick to enjoy the benefits of an Ayurveda massage or bath, and the benefits include: slowing the ageing process, prolonging lifespan, improving digestion and eyesight and correcting sleep disturbances. Ayurvedic therapies are also beneficial for a range of other medical conditions including reducing diabetes, cholesterol, high blood pressure, obesity, arthritis, and a host of other medical problems.
If you are interested in exploring Ayurvedic treatments, why not try our 'Ayurvedic Rejuvenation' tour? After spending a week exploring the island, head to a specialist retreat for a two-week immersion in Ayurveda practices – after a consultation with an Ayurvedic doctor, follow a personal meal plan and enjoy a range of treatments tailored specifically to you. As always, we will be happy to tinker with the set itinerary to suit your needs: some may wish to dabble, whilst others may wish to undergo total mind and body relaxation through various Ayurvedic therapies.
There are also a range of independent spas across the island – mostly in Colombo and along the south coast – which offer Ayurvedic massages, and many hotels also offer a range of treatments. Siddhalepa in Colombo is a good-value option for those seeking a traditional relaxing massage, whilst we also offer a more authentic experience in the Cultural Triangle where treatments are undertaken in a remote wattle-and-daub hut.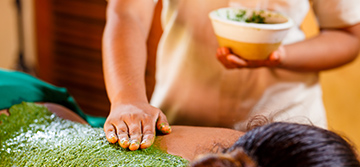 Ayurveda Background
Island-wide
Ayurveda is an ancient natural healing method which promotes general well being and seeks not only to cure disease but also to rejuvenate the body by increasing immunity against disease.
Duration: N/A
Best time: Year-round