Sri Lanka is a birder's delight. Its tropical climate, relative isolation and astonishing biodiversity is responsible for the amazingly varied birdlife which comprises more than 400 species. Almost 200 migrant species descend on the country each year, having flown south for the winter – some, like the sandpipers and plovers, come from as far north as the arctic tundra. Within a two-week birdwatching holiday in Sri Lanka, you can easily see all 33 endemic birds along with at least 200 species. Whether bird watching is your passion, or you merely fancy a dabble, pick up a pair of binoculars, a guidebook and a notepad and join us in this birdwatcher's paradise.
Carefully-crafted itineraries can take advantage of Sri Lanka's two distinct monsoon seasons and variety of landscapes to offer excellent birding holidays for most of the year. Only August to October is best avoided. The best times to visit for birdwatching is often regarded as between November and April, when the migrant birds have landed and the weather has settled. It is then you can watch as the storks, spoonbills, cormorants and kingfishers feed off the tanks in the dry regions and flamingos come in their hundreds to line the lagoons and water holes of Mannar and Jaffna in the Northern Province. But Kumana in the far south-east also offers wonderful bird watching opportunities between May and July, so allowing further opportunities. If birding is your passion, take a look at our fantastic Sri Lanka birdwatching holiday.
Don't Miss
The mixed species feeding flocks of Sinharaja
The greater flamingos in Bundala
Endemics in Bodhinagala Rainforest
Wetland and forest bird species in the Talangama Wetlands
Waders in the Palatupana saltains
Montane endemics in Horton Plains National Park
Himalayan migrants at the Victoria Park in Nuwara Eliya
Kelani Valley Forest Reserve's endemics including green-bill coucal, chestnut-backed owlet, orange-billed babbler and the elusive dollar bird
Waders and pink flamingos in Mannar and Jaffna during the migrant season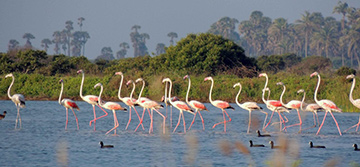 Birdwatching in Jaffna
Jaffna
Bird watching in Jaffna during the migrant season from September – March is a highlight for nature lovers. Migrant birds along with other waders in their thousands flock to the lagoons.
Duration: 2 hours
Best time: September to March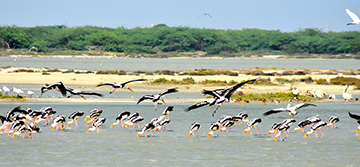 Birdwatching on Mannar Island
Mannar, North-West Coast
Mannar Island, one of the most lightly-visited areas of Sri Lanka, is one of the best spots in the island for spotting migratory birds, as well as other animal species.
Duration: N/A
Best time: November to February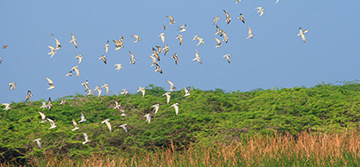 Bundala National Park
Bundala, Tissa & Kataragama
Bundala National Park, which neighbours Yala, is one of the best places for birdwatching in Sri Lanka, and is also home to sloth bears, elephants and deer.
Duration: 3 hours
Best time: September to March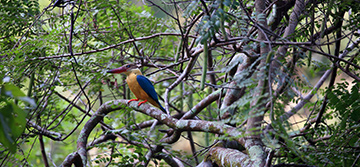 Kalametiya Bird Sanctuary
Hambantota, Tissa & Kataragama
Kalametiya Bird Sanctuary is a beautiful, mellow spot with just you and a boatman punting a boat around the lagoon.
Duration: 2 hours
Best time: November to April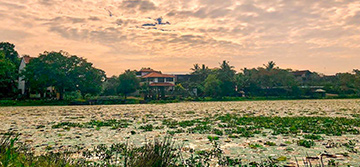 Talangama Wetlands
Colombo
The Talangama Wetlands, located in the Kotte surburbs of Colombo, are comprised of tanks, canals and paddy fields which offer excellent opportunities for birdwatching.
Duration: 2 hours
Best time: Year-round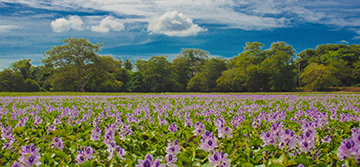 Anawilundawa Wetlands
Puttlam, North-West Coast
Located near to Kalpitiya, Anawilundawa (meaning 'seven wetlands' in Tamil) refers to a cluster of freshwater tanks within the sanctuary. It is a very important wetland for many migratory birds.
Duration: 3 hours
Best time: October to April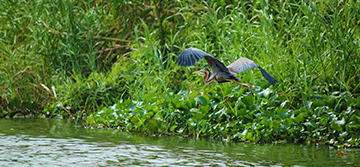 Muthurajawela Wetlands
Negombo, North-West Coast
Muthurajawela is situated just south of Negombo. It has a diverse eco-system that is teeming with life: mangroves and other types of flora host numerous types of birds, butterflies and pythons.
Duration: 2 hours
Best time: September to April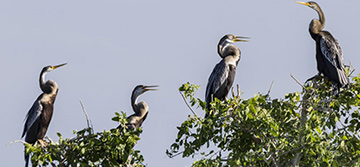 Bundala & Tissa Wetlands
Bundala, Tissa & Kataragama
Bundala & Tissa wetlands combine 20km of beach, lagoons and scrub hosting more than 150 bird species and should delight bird lovers in Sri Lanka.
Duration: 3 hours
Best time: October to March