Sri Lanka's glowing reputation as an upmarket holiday destination has much to do with the gorgeous selection of beach villas that stud its coastline. The hub for Sri Lanka beach villas is undoubtedly the Galle Coast, which has become a magnet for wealthy visitors, but you can also find great beach villas on either side of the Galle Coast, to the south and west. Most beach villas in Sri Lanka come with an attentive but discreet staff including housekeeper, cook and gardener. Red Dot strives to include good-value beach villas in our constantly-evolving selection.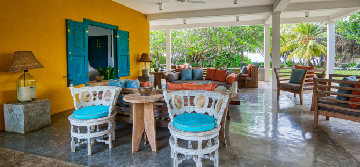 The Last House
Tangalle, South Coast
The Last House, so called because it was Geoffrey Bawa's architectural swansong, is positioned on an idyllic strip of land - lagoon on one side, beach on the other - on the outskirts of Tangalle. It has long been one of best villas in the south coast and also operates as a small boutique hotel. Few villas have a better beach.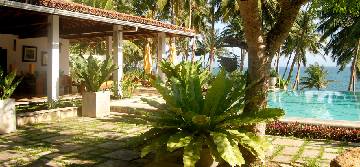 The Saffron House
Dickwella, South Coast
This spacious villa sits in three acres of terraced gardens and is perched on a headland with panoramic views of the Indian Ocean. The villa is situated near Dickwella on Sri Lanka's beautiful south coast. Exclusive use of a four-bedroom villa with an infinity swimming pool.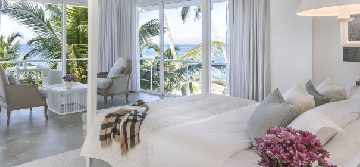 The Sandals
Balapitiya, West Coast
The Sandals is a modern, five-bedroom beach villa set on a hillock overlooking a picturesque stretch of beach in Balapitiya, just south of Bentota, on Sri Lanka's west coast. Large glass windows provide uninterrupted sea views.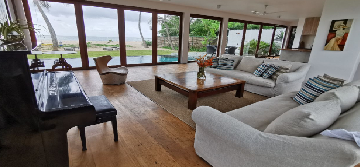 Ubuntu Villas
Mirissa, South Coast
Ubuntu Villas is a stylish eight-bedroom hotel on the beachfront of Kamburugamuwa, south of the popular South Coast resort of Mirissa and is the sister property of Lantern situated nearby.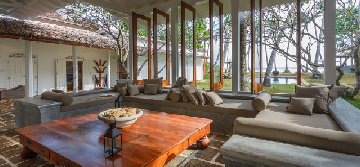 Victoria
Galle Coast
There are few beach villas that allow you to unwind as completely as Victoria. Built as a contemporary interpretation of a traditional Sri Lankan house and furnished with antique furniture, Victoria is set in a coconut grove on the beach with landscaped gardens falling into the Indian Ocean.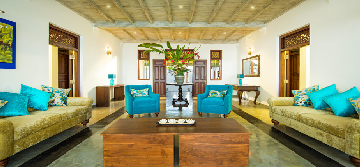 Villa 46
Hikkaduwa, West Coast
Marvan Atapattu, for many years a stalwart of the Sri Lanka cricket team, and his wife Neluni are the team behind the development of Villa 46, a modern four-bedroomed property with a carefree ambience and a great location looking onto the broad expanse of Narigama beach on Sri Lanka's west coast.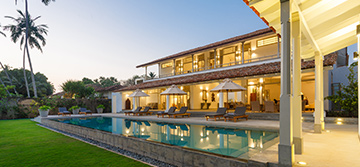 Villa Ahasa
Koggala, Galle Coast
Villa Ahasa is a three-bedroom villa just footsteps from Koggala Beach, a long stretch of picture-perfect tropical coastline close to Galle. Villa Sulanga, its sister property, is just next door.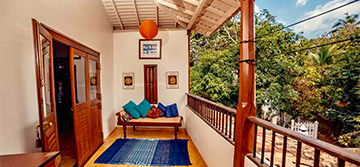 Villa Spicy
Unawatuna, Galle Coast
Villa Spicy is an appealing, chilled-out little villa set within a walled garden, a short walk away from Unawatuna Bay. The ground floor of this comfy, laid-back property consists of a living room opening out to a spacious terrace and small garden. Upstairs are two charming bedrooms opening out to a balcony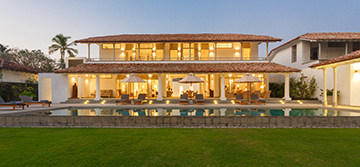 Villa Sulanga
Koggala, Galle Coast
Villa Sulanga is a three-bedroom villa just footsteps from Koggala Beach, one of the most sought-after beach destinations in Sri Lanka. Villa Ahasa, its sister property, is just next door.