Sri Lanka's glowing reputation as an upmarket holiday destination has much to do with the gorgeous selection of beach villas that stud its coastline. The hub for Sri Lanka beach villas is undoubtedly the Galle Coast, which has become a magnet for wealthy visitors, but you can also find great beach villas on either side of the Galle Coast, to the south and west. Most beach villas in Sri Lanka come with an attentive but discreet staff including housekeeper, cook and gardener. Red Dot strives to include good-value beach villas in our constantly-evolving selection.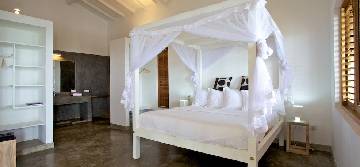 Stella Beach House
Mirissa, South Coast
Stella Beach House is a four-bedroom, modern holiday villa fronting the turquoise seas of Mirissa on the south coast. Stella Beach Villa – another wonderful four-bedroom beach villa, is next door. Mirissa Bay's beautiful crescent beach is good for swimming and surfing most of the year.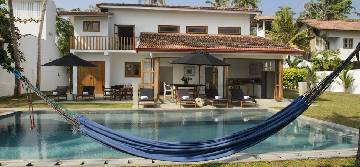 Stella Beach Villa
Mirissa, South Coast
Stella Beach Villa is a four-bedroom villa which opens out to the spectacular Mirissa Bay on Sri Lanka's south coast. The villa is effectively designed to allow you to make the most of the surroundings, a rolling two-acre estate with a 400 metre beach frontage. There are two surf breaks right in front of the villa that attract many surfers from the world over.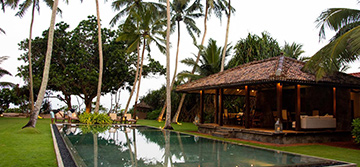 Sundara by Mosvold
Balapitiya, West Coast
Set on a quiet, beautiful tropical bay in Balapitiya, Sundara by Mosvold is a boutique beach retreat of Bawa-esque design offering a restful haven on Sri Lanka's west coast.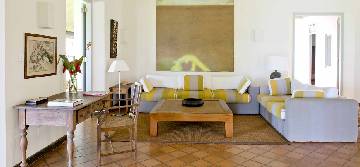 Suriyawatte
Weligama, South Coast
Suriyawatte is a charming five-bedroom beach villa perched on a hillock with magnificent views of the Indian Ocean. The villa is situated close to Weligama Bay and is about 40 minutes away from Galle. Suriywatte is ideal for families and can accommodate up to 10 guests.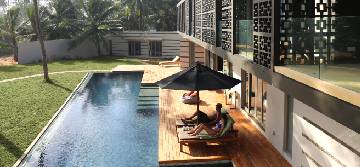 Talalla House
Talalla, South Coast
Talalla House is a stylish seven-bedroom villa on the Southern Coast of Sri Lanka, minutes away from a secluded beach stretch. The two-storey villa is fully-equipped with an infinity pool, a kid's pool, kitchen and a private roof top terrace with a garden where guests can use for yoga, sunbathe or enjoy evening cocktails with views of the sunset.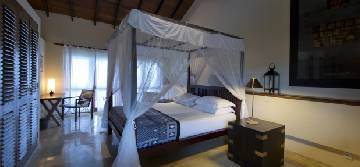 Talaramba Reef Vatura
Mirissa, South Coast
Talaramba Reef Vatura is one of two adjoining villas owned by Talaramba Reef. These spacious villas are set in sprawling gardens edged by turquoise seas in the village of Talaramba near the gorgeous south-coast bay of Mirissa. Each has separate facilities including swimming pools. Vatura also has a tv lounge.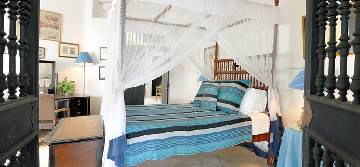 Taprobane Island
Weligama, South Coast
Taprobane Island is not just an iconic Sri Lanka photograph – it is also an island paradise. This famous octagonal villa occupies a tiny rocky island in Weligama Bay, about 200m from shore. Built in the 1920s by the eccentric Count de Mauny, it set in two acres of spectacular tropical gardens. Its sense of history, elegant colonial furnishings and stunning swimming pool transport you back in time.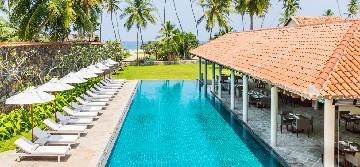 Taru Villas - The Long House
Bentota, West Coast
The Long House is a chic boutique hotel overlooking the golden sands of Bentota in the prime upmarket strip just south of the town. Another great offering in the Taru Villas collection.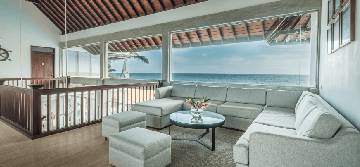 The Beach House
Mirissa, South Coast
The Beach House Mirissa is a six-bedroom boutique hotel that combines luxurious living with modern and eclectic design. The secluded beach front which is ideal for sunset cocktails or a romantic dinner under the stars.