Sri Lanka's glowing reputation as an upmarket holiday destination has much to do with the gorgeous selection of beach villas that stud its coastline. The hub for Sri Lanka beach villas is undoubtedly the Galle Coast, which has become a magnet for wealthy visitors, but you can also find great beach villas on either side of the Galle Coast, to the south and west. Most beach villas in Sri Lanka come with an attentive but discreet staff including housekeeper, cook and gardener. Red Dot strives to include good-value beach villas in our constantly-evolving selection.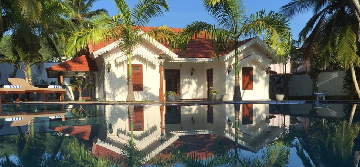 Sisikirana Villa
Unawatuna, Galle Coast
Sisikirana is a three-bedroom villa designed in a typical southern style tucked away in a quiet backstreet in Unawatuna, moments from the popular beach front. This beautiful property is an oasis of peace in a convenient location for the beach and visiting Galle Fort, and has a large pool which will delight adults and children alike.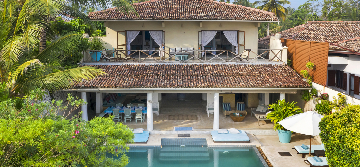 Sisindu C
Habaraduwa, Galle Coast
Sisindu C is a two-storey, bright and airy beach villa with a Mediterranean feel. Enter through the antique doorways into a spacious, open-plan living room which flows seamlessly onto a wide verandah and swimming pool. There are two a/c bedrooms and the room sofas that can serve as day beds.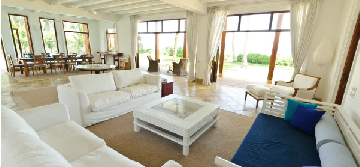 Skye House
Habaraduwa, Galle Coast
Skye House is a beautiful five-bedroom holiday villa set on a pristine stretch of beach in Habaraduwa on the Galle coast. This family beach house has a swimming pool, study room, living and dining rooms as well as an imaginative children's room with six bunk beds enabling it to accommodate up to 14 guests.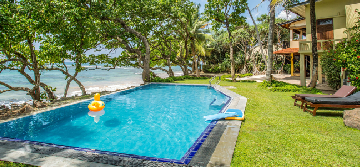 South Point Abbey
Koggala, Galle Coast
South Point Abbey is a restored colonial property situated by the beachside in the fishing village of Kathaluwa, just south of Koggala on Sri Lanka's south coast. The villa dates back to the Dutch colonial period and has retained the old architectural features of verandas, high ceilings and large airy rooms.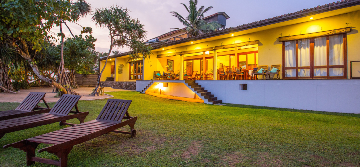 South Point Villa
Kathaluwa, Galle Coast
South Point is an impressive Sri Lankan south coast villa, situated by the beachside in the fishing hamlet of Kathaluwa, just south of Koggala. South Point has three bedrooms and smart, modern interiors and a wonderful mini-headland location that sees the property poke out into the turquoise waters of the bay.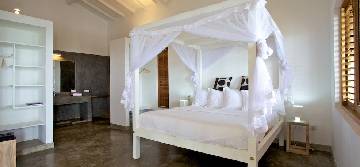 Stella Beach House
Mirissa, South Coast
Stella Beach House is a four-bedroom, modern holiday villa fronting the turquoise seas of Mirissa on the south coast. Stella Beach Villa – another wonderful four-bedroom beach villa, is next door. Mirissa Bay's beautiful crescent beach is good for swimming and surfing most of the year.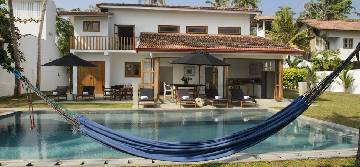 Stella Beach Villa
Mirissa, South Coast
Stella Beach Villa is a four-bedroom villa which opens out to the spectacular Mirissa Bay on Sri Lanka's south coast. The villa is effectively designed to allow you to make the most of the surroundings, a rolling two-acre estate with a 400 metre beach frontage. There are two surf breaks right in front of the villa that attract many surfers from the world over.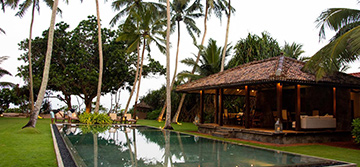 Sundara by Mosvold
Balapitiya, West Coast
Set on a quiet, beautiful tropical bay in Balapitiya, Sundara by Mosvold is a boutique beach retreat of Bawa-esque design offering a restful haven on Sri Lanka's west coast.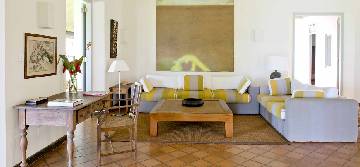 Suriyawatte
Weligama, South Coast
Suriyawatte is a charming five-bedroom beach villa perched on a hillock with magnificent views of the Indian Ocean. The villa is situated close to Weligama Bay and is about 40 minutes away from Galle. Suriywatte is ideal for families and can accommodate up to 10 guests.