Sri Lanka's glowing reputation as an upmarket holiday destination has much to do with the gorgeous selection of beach villas that stud its coastline. The hub for Sri Lanka beach villas is undoubtedly the Galle Coast, which has become a magnet for wealthy visitors, but you can also find great beach villas on either side of the Galle Coast, to the south and west. Most beach villas in Sri Lanka come with an attentive but discreet staff including housekeeper, cook and gardener. Red Dot strives to include good-value beach villas in our constantly-evolving selection.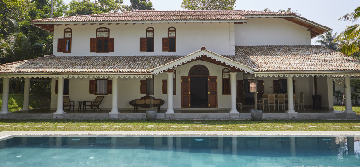 Kalukanda House
Weligama, South Coast
Kalukanda House is a charming five-bedroom villa in Weligama on the South Coast of Sri Lanka, minutes from the Weligama beach. The villa is an ideal holiday retreat for families looking to have their own space and is equipped with a pool.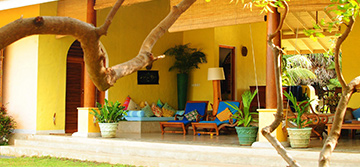 Khomba House
Alankuda, North-West
Khomba House is a beautifully-designed two-bedroom beach villa situated within the Bar Reef Resort in Alankuda on the North West coast. The house is furnished with Dutch-period antiques, colourful soft furnishings, and opens on to the secluded sandy beaches. Dolphin spotting off the coast of Alankuda is utterly rewarding during the season from December to April.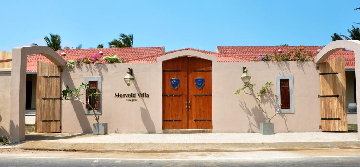 Mosvold Villa
Ahangama, Galle Coast
Mosvold Villa is a 12-bedroom boutique villa fronting a secluded beach in the fishing village of Ahangama on the Galle Coast. This is surfing territory, a convenient drive from Galle's 17C Dutch Fort. Rooms have twin or double beds and enjoy spectacular sea views.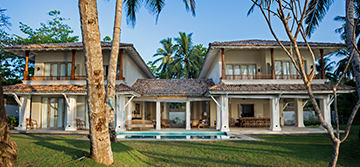 Nilwella Palms
Nilwella, South Coast
Set on quiet beach stretch next to lively Hiriketiya Bay on Sri Lanka's south coast, Nilwella Palms is a six-bedroom villa ideal for families or groups of friends seeking a private coastal retreat.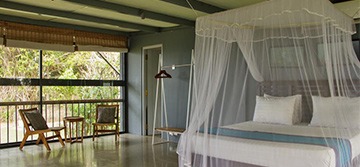 Redcliffs
Weligama, South Coast
Redcliffs is a magnificent three-bedroom villa of great historical significance and a prime vantage spot on a cliff top above Weligama Bay. This iconic villa was designed by Sri Lanka's architecture guru, the late Geoffrey Bawa, who has ensured that breath-taking views of Weligama Bay are visible from every corner.
Samudra House
Habaraduwa, Galle Coast
Samudra House is a modern beach villa on the Galle Coast with two en suite bedrooms and a large swimming pool set amid tropical gardens. Sea views are enticing.
Satin Doll
Thalpe, Galle Coast
This stylish four-bedroom beach villa provides some of the most chic accommodation that Galle's upmarket beach settlement of Thalpe has to offer.